If you have an aging loved one, home health care setups could be the ideal service to help them continue living independently. Even if your family member has a serious health condition and limited abilities, this assistance can allow the person to continue to live in the comforts of their own home. Home health care setups include a full range of medical care in the house, including nursing, occupational therapy, physical therapy and help with daily needs.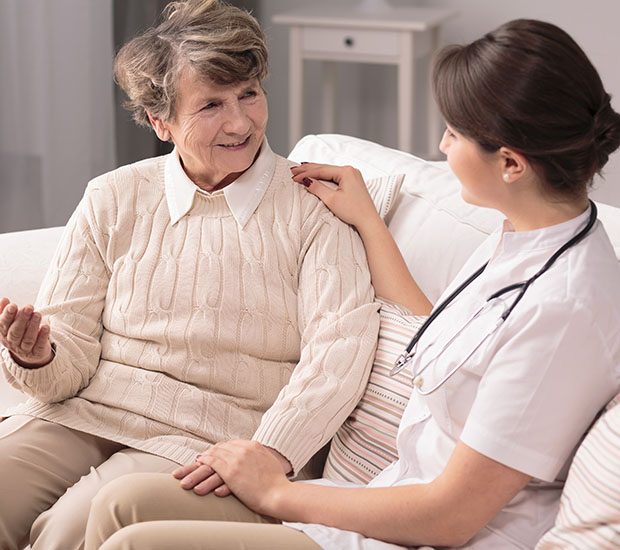 Home health care setups are available at MedOne Urgent Care at St. Augustine in St. Augustine and the surrounding area. It can be difficult watching a close family member struggle with the challenges of aging. However, it can be much easier for the individual to stay at home rather than move to an assisted living facility. Our team can provide essential care that will give the patient and you more peace of mind.
Give us a call today at 904-436-1553 if you or a loved one is interested in exploring our services and what they have to offer.
When Home Health Care Setups Make Sense
As people age, it becomes more difficult to handle what were once routine tasks. This increase in difficulty does not mean an individual must move into assisted living or nursing home at the first sign of struggles. Sometimes, an older adult is capable of being on their own but may need some help managing daily regiments.
Patients can use MedOne Urgent Care at St. Augustine for home health care if they feel more at ease in their home but cannot manage essential tasks without professional help. It may also be good to use this service if the patient does not have family members nearby or cannot turn to family for daily care.
Professional Care When You Need It
Our team has a staff of professionals, each of whom focuses on different areas of service and care. Each team member has the necessary training and skill to assist patients in need effectively. When a patient is having difficulty getting out of the home to the doctor's office or needs someone to check on them regularly, home health care setups work well.
Our Dr. Edward Lucas and the staff can help the patient build a home health care setup that meets their needs. Some of the services the patient will need to consider include:
Checking the patient's vital signs such as blood pressure and temperature
Monitoring whether the patient is correctly taking medication
Assisting the patient in getting in and out of bed
Cooking meals for the patient
Making sure the home is safe
Properly installing and maintaining medical equipment
Helping with light household chores and other tasks
Benefits of Home Health Care Setups
When a patient becomes unable to care for all of life's daily needs but does not want to leave home yet, home health care setups are the right option. This service can give the person and family members the peace of mind of knowing that their loved one receives the proper care. Dr. Edward Lucas can ensure the services meet the patient's needs.
At the same time, the aging individual can maintain some independence by staying in the home. The patient has access to nutritional counseling, as well. Plus, if the patient does not have family or friends nearby, the home health care staff can provide a level of companionship. Home health care also costs less than staying in a nursing home.
Making the Decision
When individuals and loved ones begin to realize that the patient needs a helping hand with daily living, it is time to give MedOne Urgent Care at St. Augustine a call. Our team will meet with the responsible parties to discuss care and treatment options. We will always help the person feel comfortable in making a decision that makes the most sense.
Our medical team will evaluate the patient's condition and determine the appropriate level of care. The first step is to call us and schedule an appointment. We can go over everything in detail during this initial appointment.
Call us Today
Caring for an aging parent, grandparent or another family member can be exhausting and stressful for you. You love this person with all your heart, and you want them to feel happy and well. Call us at 904-436-1553 today if you believe your loved one can benefit from home health care setups.
We will discuss with you the benefits and advantages of using our services. We will also talk about what you and your family member can expect from this in-home care. By the time you make a decision, you can feel at ease knowing your relative is in good hands.