IV Therapy St. Augustine
There may be times when you require IV fluids to replenish nutrients in your body during an illness. This treatment can vary in volume and length but should be administered by a professional. Our urgent care team has the knowledge and training to perform this correctly and help you regain your health and strength. IV fluids are delivered under the skin and directly into your vein and thus quickly introduce medication or vitamins into the circulatory system to improve your energy and health.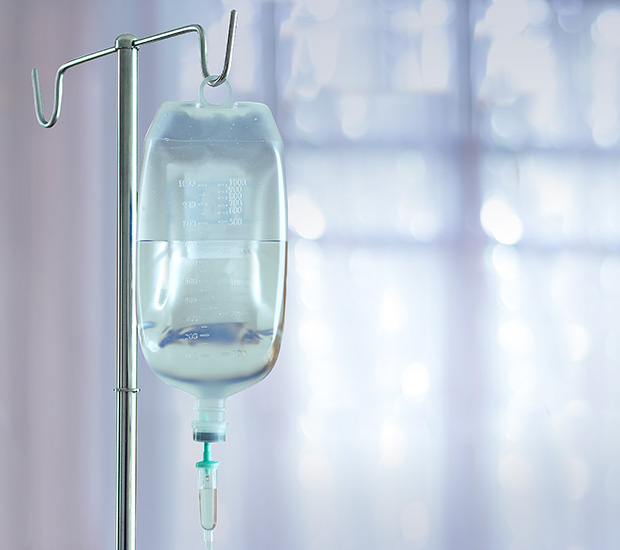 IV fluids are available at MedOne Urgent Care at St. Augustine in St. Augustine and the surrounding area. If you or a loved one needs to be hospitalized, this method is one of the most effective at efficiently and quickly getting the right medication under the skin and into the bloodstream. This treatment can also help get essential nutrients and vitamins back into the body.
If you have questions or concerns about intravenous therapy, call us today at 904-436-1553, so we can give you more information.
The Makeup of Intravenous Fluids
IV fluids typically consist of a sodium chloride solution that dissolves in sterile water. Some solutions may contain potassium as well. Once the patient is in our urgent care facility, Dr. Edward Lucas or a team member will put the nutrient and vitamin-rich solution in a bag and prepare the patient.
We will inject the patient with a syringe and deliver the IV into a vein. The amount of IV that goes into the person's body will depend on their health needs, their immune system, and the severity of their condition. Our goal is to improve your well being and energy levels by delivering vitamin infused solutions packed with essential nutrients.
Situations for IV Hydration Treatment
In many cases, when a patient comes to MedOne Urgent Care at St. Augustine to treat an illness or other medical condition, our team can use non-invasive methods to give medication orally or through an injection. In other situations, however, IV fluids packed with vitamins may be necessary to speed up the medication delivery process or to replenish the patient's fluids quickly.
IV fluids can help with a variety of health conditions, such as low energy or fatigue, and enhance the recovery process. In many cases, IV therapy is one of the first steps we will recommend after determining the source of the patient's symptoms. It is crucial to seek professional health treatment since IV treatment may not be the most effective choice for each patient.
Reasons a patient may need IV treatment services include:
When the patient is dehydrated

When the patient needs pain medication before, during or after surgery

For blood transfusion following a substantial loss of blood
IV Treatment Therapy Benefits
Though some patients may have anxiety about needles, IV fluids can greatly boost one's recovery and overall condition. In fact, administering IV hydration fluids can often be the most efficient way of helping the person cope with an illness, nutrition issues, weight loss, or the symptoms of other health conditions. Giving a patient medication in this way works faster than other methods and can help patients feel like they've achieved optimal health.
The results can be almost immediate. If a person is feeling run-down, has low energy levels or has chronic fatigue, using an IV, or utilizing the services of a drip bar, can help the patient feel energized much more quickly than by using other strategies. An IV can also be a good alternative for relying on pills, vitamin therapy, and other forms of medicine.
Related Pages: Hangover IV Therapy St. Augustine 
Frequency and Duration
A benefit of getting IV fluids at MedOne Urgent Care at St. Augustine is that our staff can tailor this treatment to fit a patient's needs and current state of health. For replenishments, many people experience results in a few hours. How often and how long a person should have this treatment will depend on their condition and how pressing the need is.
For example, for pain medication for surgery, our physician will consider the length and complexity of the operation and how much pain the person might feel.
IV Therapy Cost
Of course, you may have questions about IV hydration therapy costs. While there is an average cost of somewhere between $100-$400, this price can vary considerably based on where you live and the additives put into the IV or which IV menu items you select. It's best to reach out to your preferred IV hydration location to learn more about exact pricing before your next scheduled appointment.
What You Need to Know
Our urgent care facility understands the critical role this treatment plays in a person's wellness and comfort level. At MedOne Urgent Care at St. Augustine, Dr. Edward Lucas will carefully evaluate every patient on a case-by-case basis to determine the most effective health plan for IV delivery. Before undergoing any IV therapy, we will explain the process and make sure the patient understands what will happen and feel at ease.
Following surgeries, patients should always share with our physician whether they feel more pain medication is required. Patients should be aware that there are possible side effects with IV fluids. Though this is an effective replenishment and medicine-delivery method, there are some risks.
Bruising and inflammation can occur at the injection or exposure site. Some people may also develop an infection from the IV. Tell the doctor if any of these things occur.
Call Us Today
No one in St. Augustine, FL should have to live with pain or suffer the effects of dehydration or depletions. IV fluids can provide you with a quick solution to treat these health issues and help improve your energy so you feel better.
Call us today in FL at 904-436-1553 if you have an upcoming surgery and would like to know more about the hydration IV process. It is helpful to understand how this infusion works so you can prepare for any future procedures. Let your doctor know if you have any health conditions, such as high blood pressure.
IMPORTANT: COVID-19 INFORMATION FOR FL Residents

Due to the Covid 19 Crisis in FL, we are unable to call back with an appointment. We are seeing anyone who comes in on a first-come, first-serve basis in a safe environment! For Our Regular Patients, we look forward to seeing you and you are welcome to call us and we will do our best to answer your call, but feel free to keep calling or just come by. This is a safe environment meeting required safety measures.